People Counting System
FootfallCam people counting system helps retailers to have a better understanding of their store traffic, improve sales conversions and measure the effectiveness of marketing events.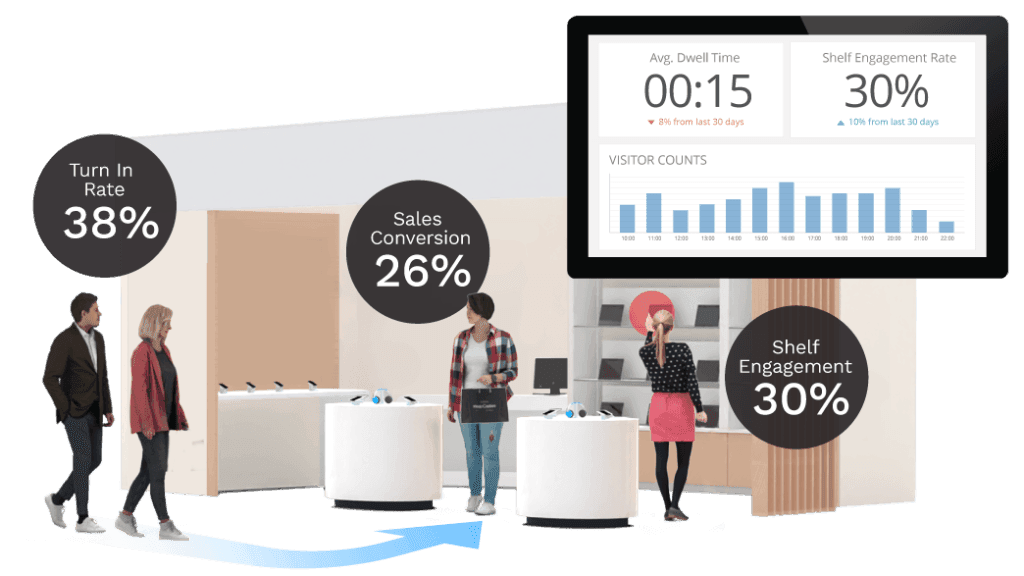 Understand Your Store Traffic
FootfallCam helps businesses to track the footfall traffics across multiple stores, evaluate the performance of your store compared to similar retail stores by benchmarking your sales opportunities with the industry average, utilise the business metrics to identify top and least performing stores and use this as a base point to improve your business as well as optimise the staff allocation.
Comparing Sales data with footfall data
Present the sales conversion rate with confidence to store managers, ensuring that the in/out counting of the visitor traffic does not include staff, children, trolleys or hovering passers-by. With the latest AI recognition built-in, any staff wearing a FootfallCam Staff Exclusion Tag will be excluded from the counting automatically.
Suitable-For-All-Environment
Combining the powerful processing unit and the advanced video counting algorithms, FootfallCam people counter is optimised to count accurately under all lighting conditions and challenging scenarios, including strong shadow, low light condition and entrance with swinging doors.. Equipped with dual fish eye lens, the people counter has the widest coverage in the industry, in which it significantly reduce the number of people counters required for stores with wide entrances with different ceiling heights.
Enterprise Class Software Platform
FootfallCam Analytics Manager V9™ provides the full analysis of traffic data for individual stores and across multiple store locations. With the readily available report templates, it helps businesses to gain visibility on the overall footfall trend of each store and their operation efficiency, together with the flexibility of exporting the data and reports to third party Business Intelligence (BI) system.
Optimised for All Environments
FootfallCam 5D Pro™is designed to count accurately with highest precision, even under all extreme conditions. It supports most of the ceiling heights, as low as 2.1m to 4.5m. The built-in sensor further improves accuracy in low-light, indoors and high noise environments, even in complete darkness. Enclosed in splash proof casing, it is designed specifically to reduce the common issue of water damage due to unforeseen circumstances such as water leakage on the ceiling.
Highest Accuracy
Combining 3D stereoscopic image processing and AI video analytics together with advanced tracking algorithms, FootfallCam 3D Pro™ People Counter is optimised to achieve up to 99.5% accuracy, even in environmentally challenging conditions. Embedded with a powerful 1.2GHz Quadcore processor, it is designed specifically to run complex video processing and AI-based algorithms with superior processing power.
Object Classifications
Utilising the 3D depth map captured by dual lens, it allows the FootfallCam 5D Pro™ people counter to determine the height and size of the moving objects, and distinguish the objects from the people using AI algorithms. This helps to exclude the object, such as wheelchairs, trolleys, carts and strollers from the counting.
One Device, Multiple Applications
Supports multiple counting functions in a single device, in which users can use interchangeably or relocate to use for other functions.
In/Out counting at entrances - Count the number of visitors entering and exiting the stores
Multiple counting lines - Count the number of visitors entering different areas
Queue counting - Measure the queue length, waiting time and serving time
Heatmap - Track the visitor engagement at different zones of interest
Technical Details
| | |
| --- | --- |
| Tracking Technology | 3D-Spacing Mapping Video Tracking Technology and AI Video Analytics. |
| Camera Lens Spec | 2x5MP |
| Depth Field of View | 160° |
| Illumination | Minimum 1 lux |
| Ideal Mounting Height | 2.1 metres – 4.5 metres |
Casing

 

Aluminum oxide alloy

Power Supply

 

Power Over Ethernet

Power Consumption

 

6W (max. 8W)

Wireless Connectivity

 

Supports a network of up to 250 IoT devices via RF

FootfallCam 3D Pro2 Datasheet
(322 KB)

FootfallCam Product Catalogue
(3 MB)

FootfallCam 3D Pro2 Installation Guide
(1 MB)
CS-01

Requirements gathering
Our team would work with you to define the requirements that you would need. We would also draw up a proposal with initial drafts of the floor plan designs, devices recommendations and project costs estimation.
CS-02

Trial
We will define a set of our criteria for the trial. A report will be produced at the end of the trial to determine its success. The cost of the trial would be credit to your project cost if a rollout is going ahead.
Fl-01
Full Installation
Our team is going to carry out the complete installation on your behalf; including planning, cabling, installation of the devices and connecting them to the network.
FA-02

Installation advisory
If you have a preferred installation team you would like to carry out the installation, we can work with them. Our advisory services would help to plan, training and provide real-time remote support.
Commissioning / Accuracy Audit
Each counter is properly tuned and video verified to give you hard evidence that all of them achieved the highest possible accuracy. This is carry out by Tuning expert (also conduct manual counting on the video recordings from the counter)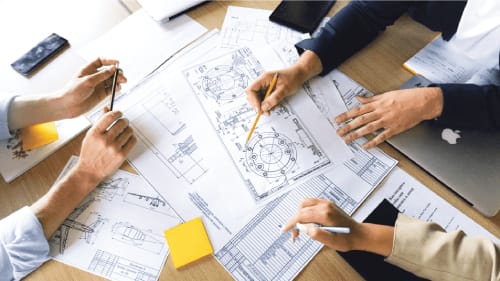 Maintenance
We will work with your IT team to choose the best software installation service for you (on-prem installation or cloud installation)
Technical Support
Both hardware and software will be regularly updated with the latest firmware. Proactive monitoring of the system will be carried out by the support staffs to ensure high data integrity
Training and Webinars
Learn how V9 Analytic can be applied in the world of Retail - understanding customer's trends, measuring display effectiveness and improving marketing strategies.
Manage all the footfall in your store
Draw Area polygon at Heatmap Dashboard to obtain heatmap analytics for area of interest
By leveraging the data offered by FootfallCam Analytic Manager, shopping mall operators can use traffic data to benchmark their performance, determine the effectiveness of marketing campaigns, and substantiate the value of retail spaces.
| ESSENTIALS | RetailFootfall™ | RetailHeatmap™ | MallTraffic™ |
| --- | --- | --- | --- |
| | | | |
| | | | |
| | | | |
| | | | |
| | | | |
| | | | |
| Shopper Journey Profiling | | | |
| Planning Staff Allocations | | | |
| | | | |
| | | | |
Add some nice text here.